Different kinds of customizable cases
Do you want to give a business gift to show that you care? Choose champagne! (Better still with chocolates…) Our cuvées are carefully selected by our winegrowers and embody all the aroma palette of the different champagne grape varieties. There are many occasions on which offering a bottle of champagne: rewarding an employee or a supplier for his work, to help enhancing a customer relationship, etc.
Our custom gift boxes with champagne will ravish wine lovers. We present vintage wine bottles, Premier Cru and Grand Cru, made from white grape varieties such as Chardonnay or black varieties such as Pinot Noir... Take the opportunity to experience different wines or grape varieties through our presents!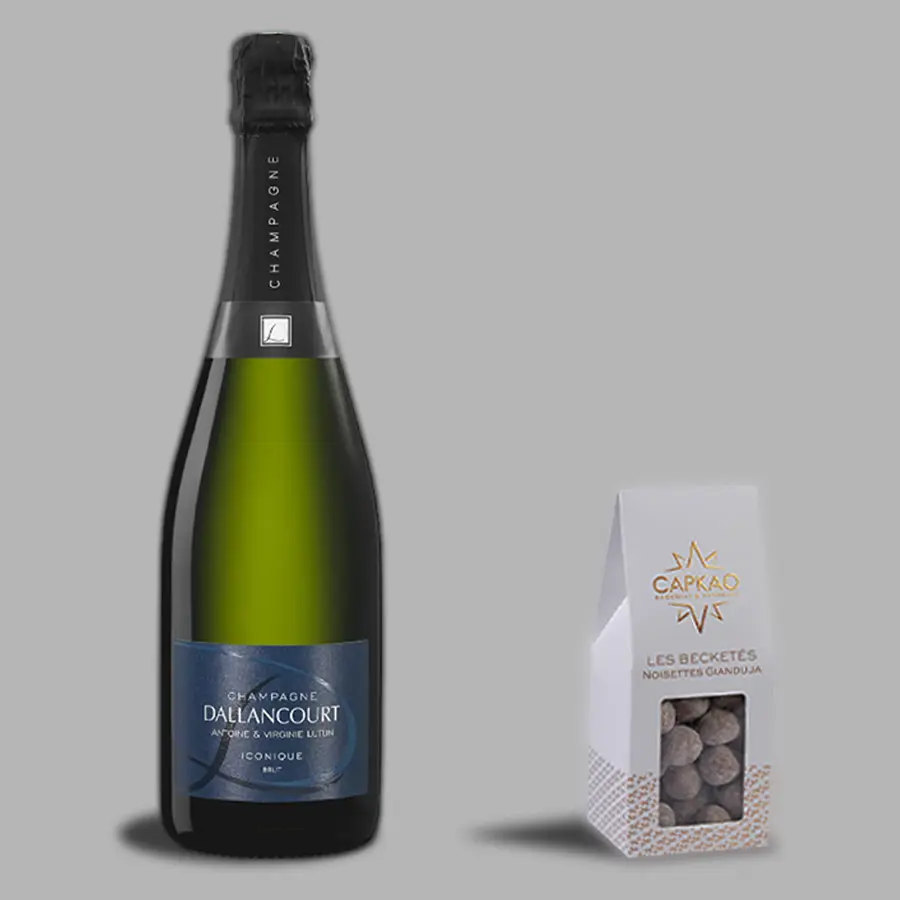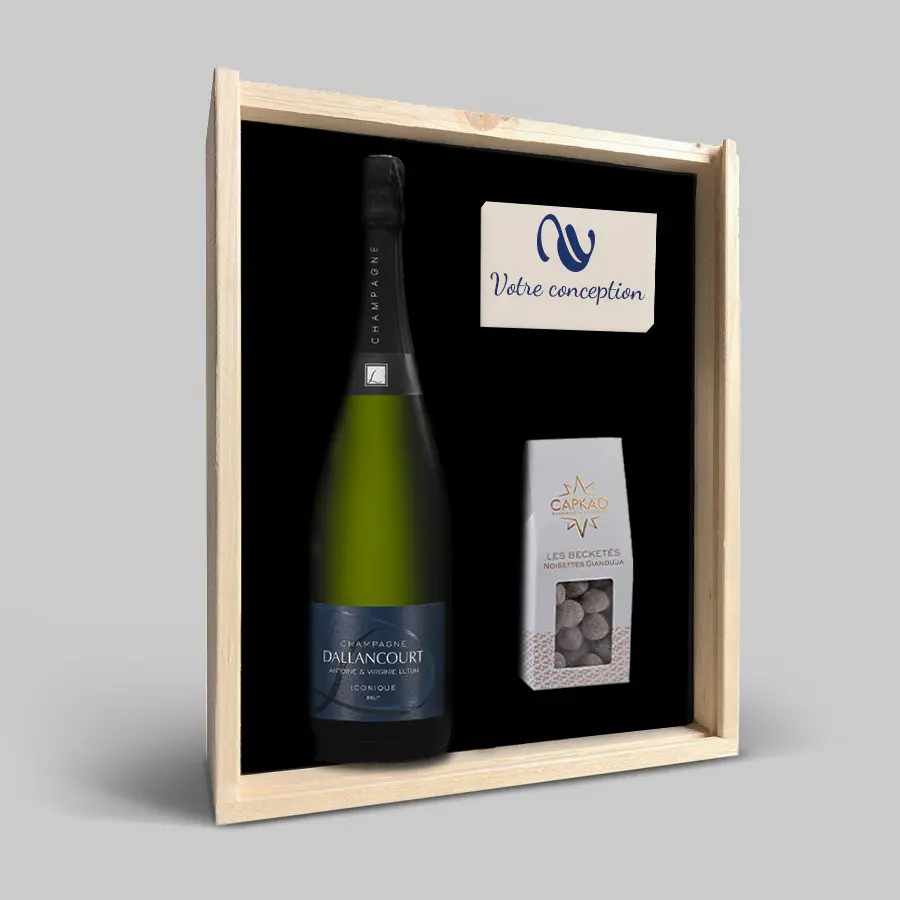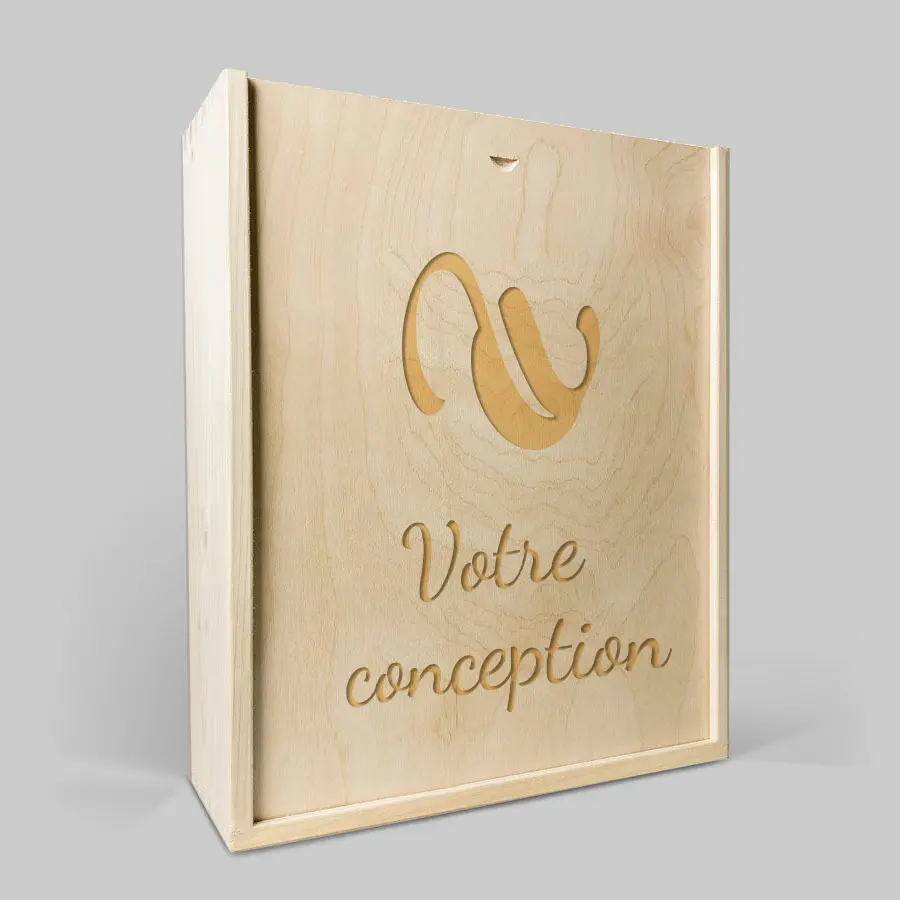 Wooden gift boxes
We offer nice wooden gift cases to showcase refined products, which are selected for their specific quality and French manufacture.
The wood choice for your case is important. The main varieties used are maritime pine, known for its aesthetics and its wine preservation qualities; oak, known for its sturdiness; beech, harder and more resistant over time; and poplar. Our wooden boxes are made of poplar plywood, a light wood with good mechanical resistance, or solid pine, very aesthetic and solid. Our wooden gift boxes are fully recyclable, which enables to reduce their carbon footprint.
Single Wooden pack : 1 bottle of champagne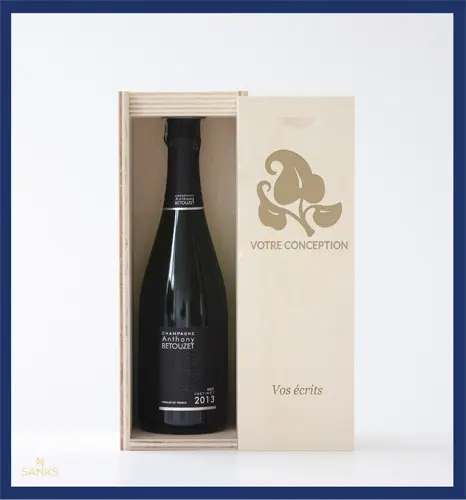 Trio Wooden pack (3 bottles)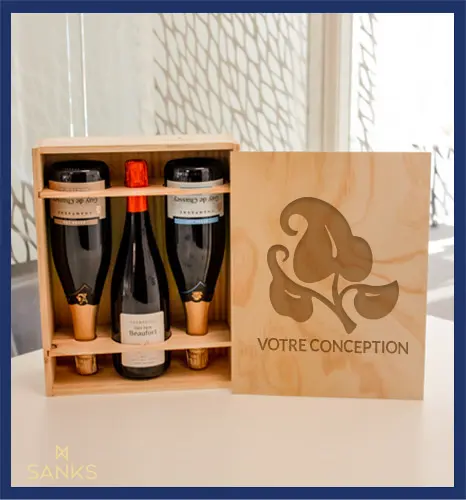 Duo Wooden pack (2 bottles or 1 bottle and a side)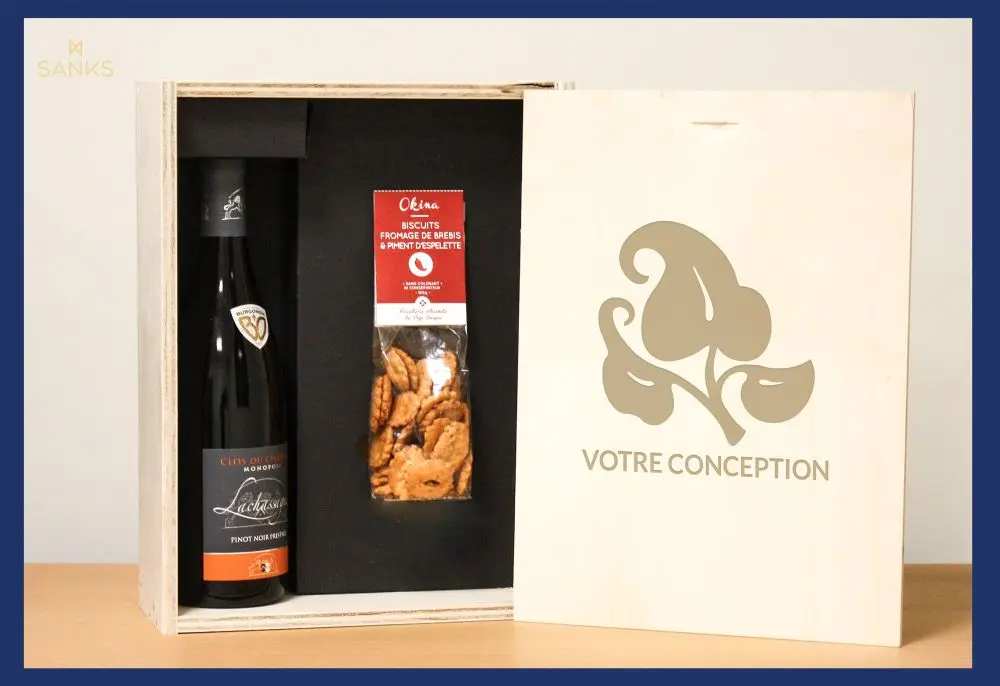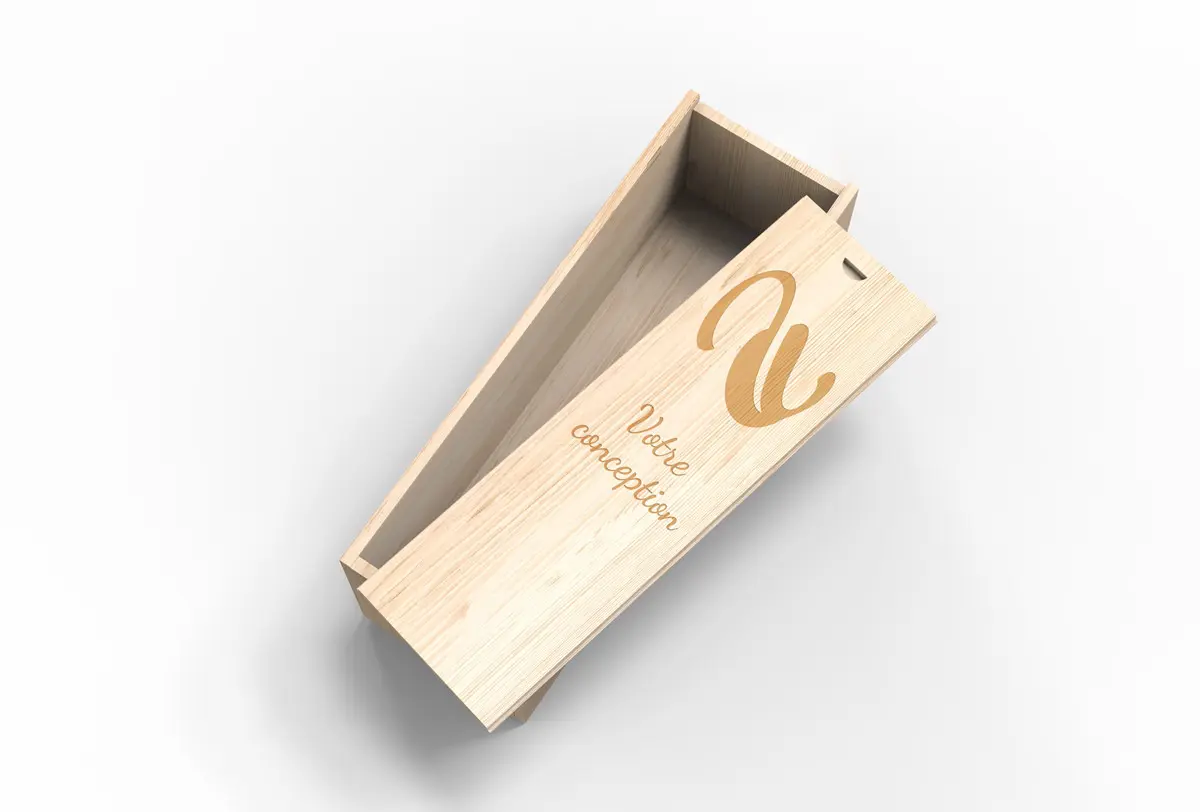 The cases exist for all bottle formats: from the standard 75 cl bottle to the 1.5 l magnum and the 3 l jeroboam, by way of more atypical formats that can be tailor-made to thank your best customer. The wooden boxes (or cases) are engraved and laser cut. The customizable marking is carried out either by hot stamping or fire branding. It is also possible to use a silk-screen printer or to affix a metal label.
If you are environmentally conscious, this option is for you. Indeed, the material used is environment-friendly and can be recycled. Moreover, the lid of the wooden box slides and can be removed, which helps the environment by making it reusable and allows to reinvent its use. Your business gift can be recycled and enhanced by the recipient who can turn it into a flower box, a storage box or even create a shelf with it if he likes. There are as many possibilities as there are ideas and we are happy to work with you on your particular project and to develop a case adapted to your needs.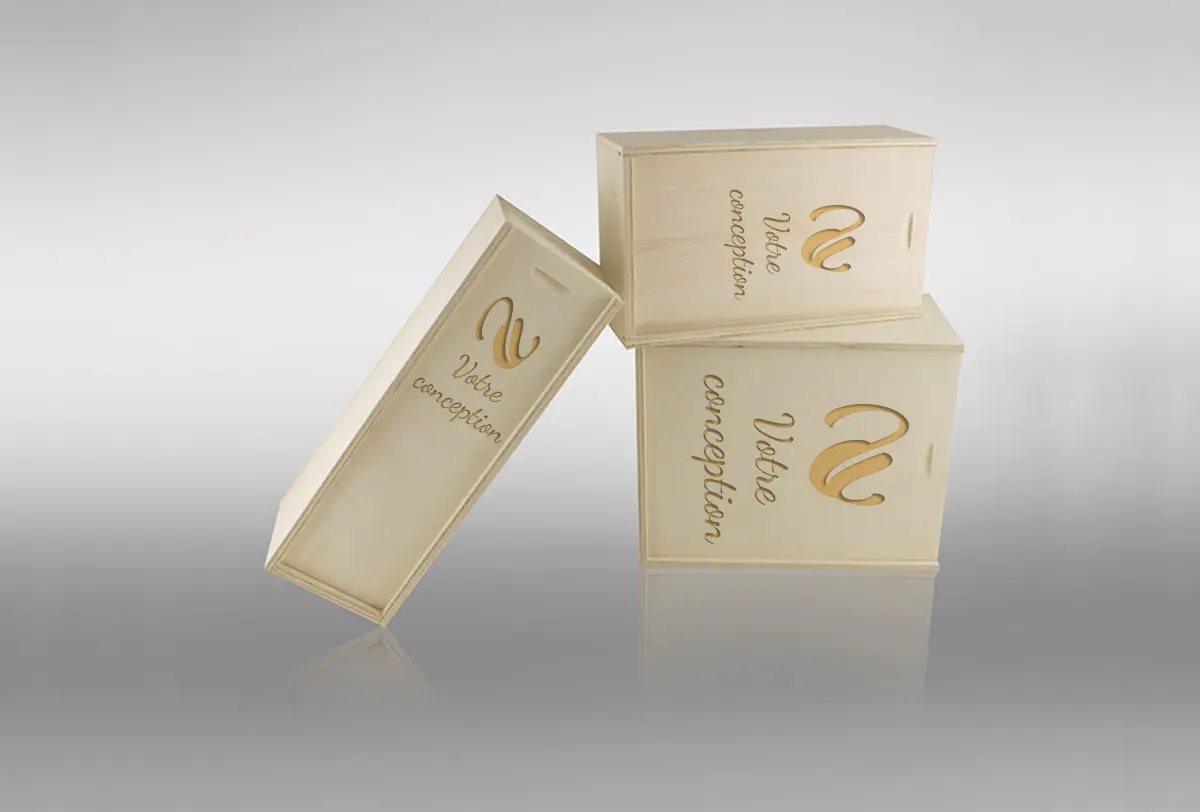 Cases to customize for an exceptional present
To enhance your corporate gift and show that you care, we suggest our customizable cases. It is the perfect brand gift idea to surprise your recipients with a nice packaging and to reveal your appreciation. You can print on the case a logo, a nice text or both.
The first thing that seduces in an original corporate gift box is the packaging. The care you take in customizing the case (or bag) will leave its mark on your rewarded client, supplier or employee. The customization can be adapted for any occasion.
To personalize it, SANKS invites you to discover a large range of different printing and finishing types : hot stamping, spot varnish, embossing, etc.
The case is very convenient and is available in several formats suitable for a traditional champagne bottle, an original champagne bottle or a magnum making your brand gift unique.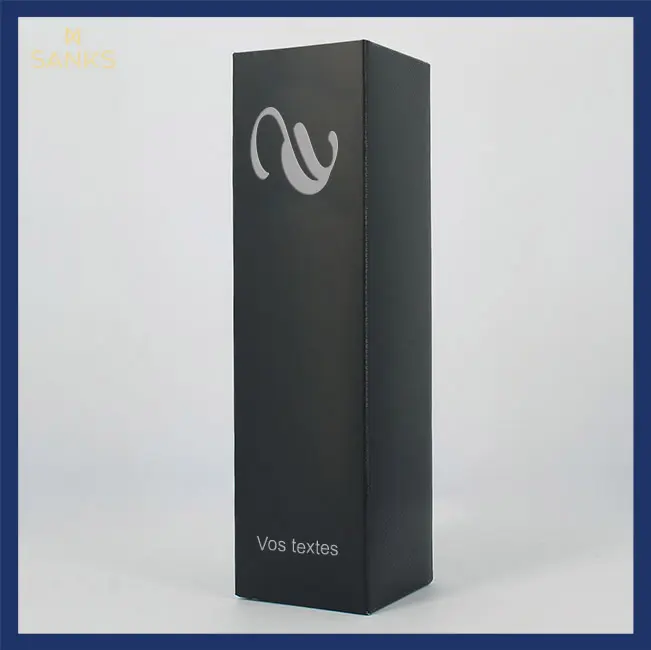 Like the premium box, the case presents a decor of discrete spot varnished crisscross on the sides and has a soft touch velvet effect. You can choose the color of the hot stamping.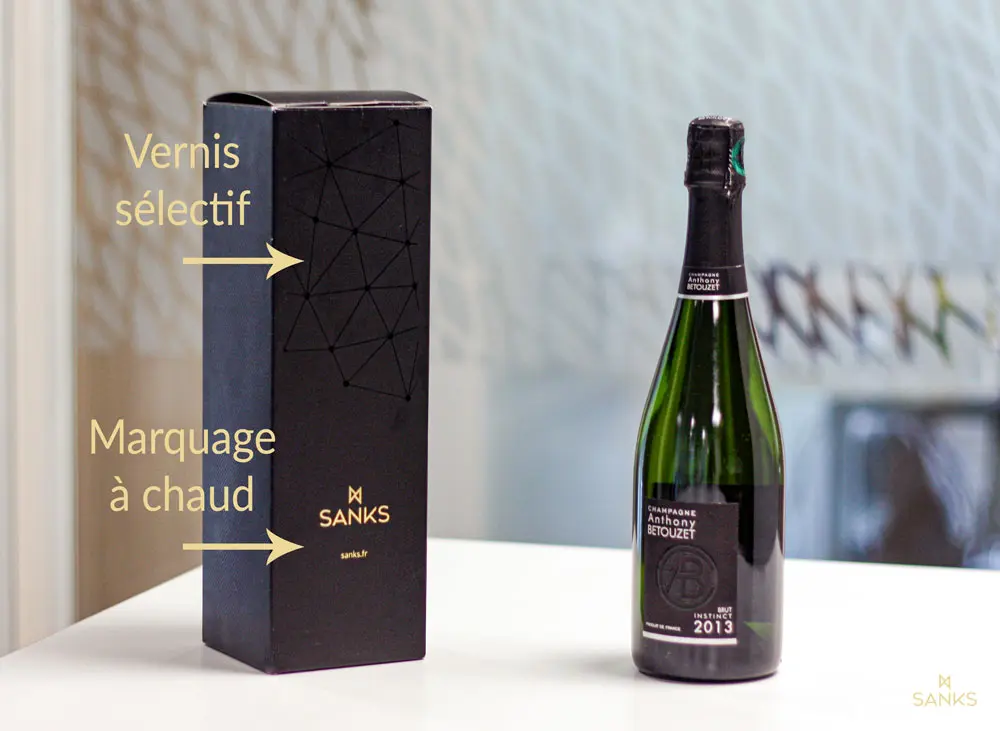 Please by offering unique bottles
Would you like to choose an original gift to show your appreciation? Pick the personalized champagne bottle! You can add the text of your choice and your logo. We also invite you to select the labeling, screen- and pad printing of your bottle. The addressee will see in this limited edition a unique and special attention.
Screen printing is a printing technique that allows ink to be transferred to different media such as paper, wood, textile, glass, etc. Rotary screen printing on glass is used to personalize champagne bottles. We used it for instance on the bottle of our Caractère Or cuvée, our special edition. The entire bottle can be screen printed making the possibilities endless. A large color range is available for screen printing, such as gold, silver, red, white, green, yellow, black and blue.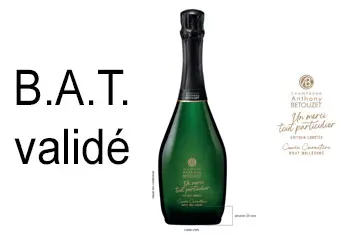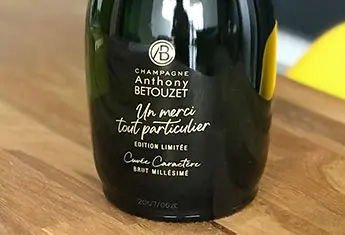 Whether it is a holiday gift personalized for the holiday season by writing "Happy New Year!" or an appreciation gift with a photo of the team that has won a commercial challenge, the bottle of champagne is a safe bet. It is a perfect choice of gifting that will delight each and every time.
To add your personal touch, you can also add your company's name, brand or logo on the back label of the bottle. Even in small volumes, customization is possible. This will give your bottle a real identity and make it unique.

A personalized message inside your luxury gift will make an impression on your partners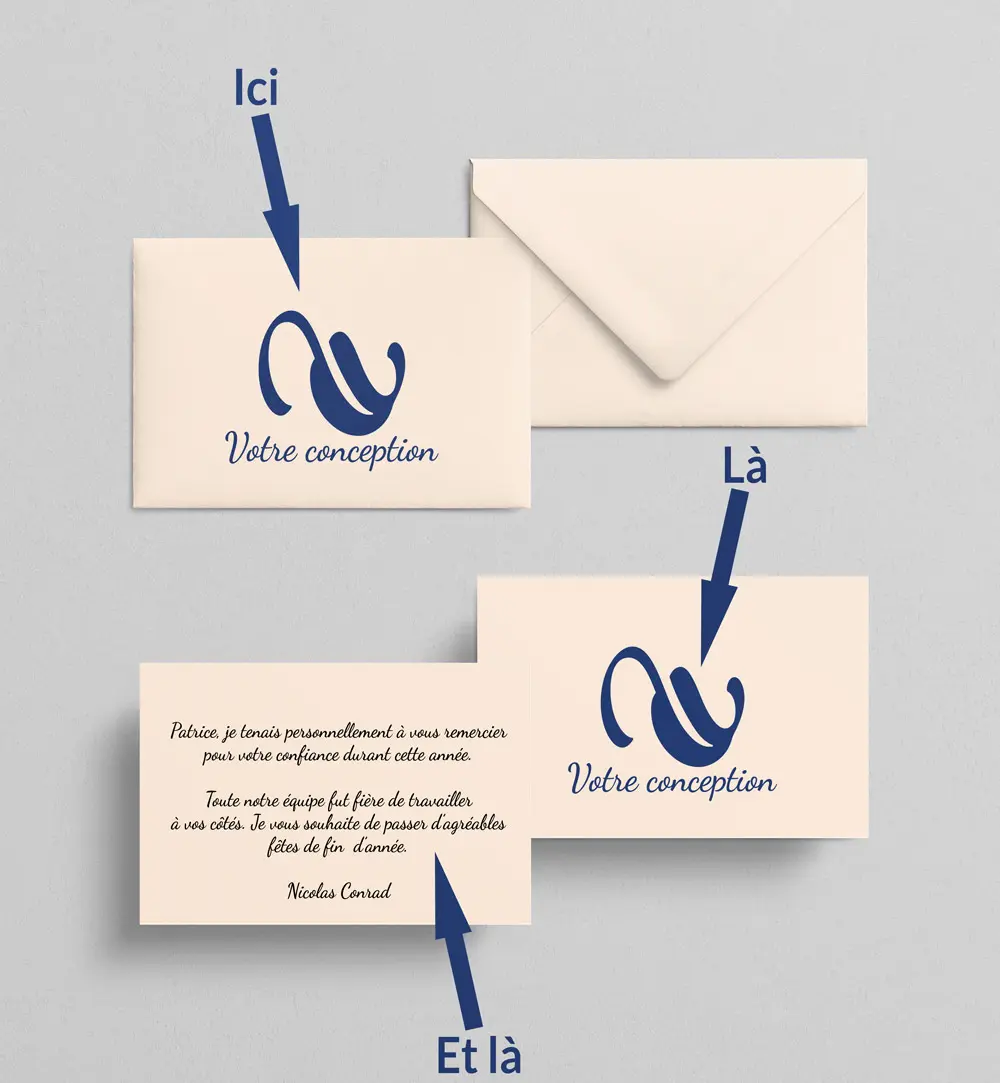 To celebrate an event or thank particularly a customer, supplier or employee, choose to add a personalized message in the case that will be sent to your client. Slip it into the original corporate gift box to create a surprise and make an impression on the person who will receive it. The message for your client, employee or business partner can be printed on a custom card with your company logo.
Don't forget to tell him to enjoy the tasting! Responsibly, of course!
Lacking inspiration for corporate gifting messages? We help you with ideas of messages that accompany your company's custom gift.
Personalization of glasses, the best way to convey a message
The marking method on glasses is either screen printing (as on bottles) or pad printing, which consists of transferring ink onto the surface of the product using a silicone pad.